Mananara Authority and Citizens Thank Videeko Vanilla ZP for Donations to Community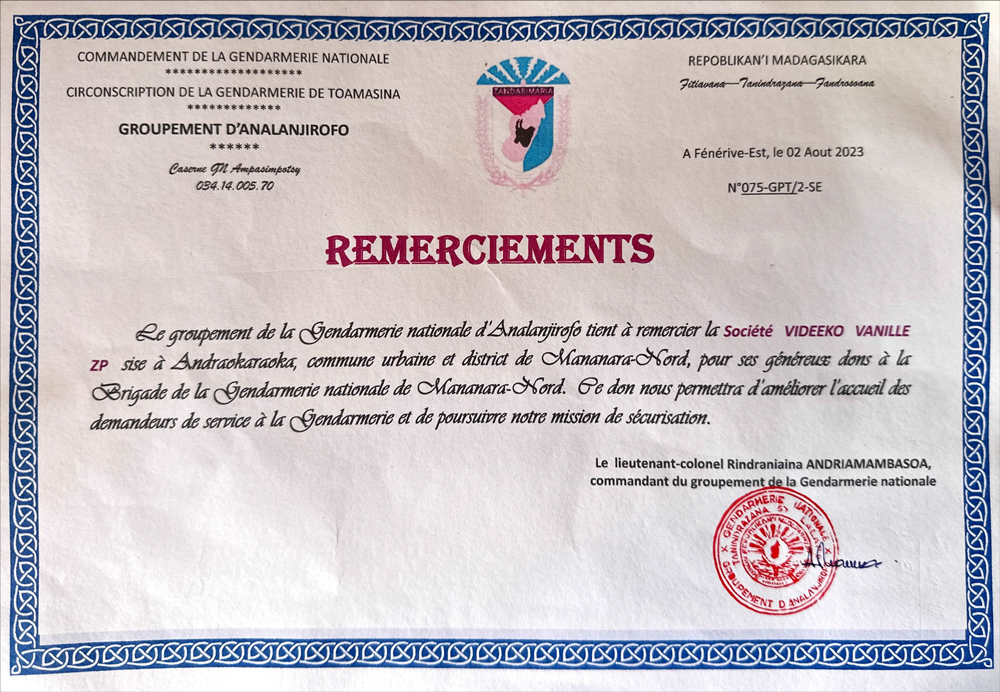 Videeko Vanilla ZP, an industry leading supplier of premium organic Madagascar Vanilla Beans and Vanilla Powder is pleased to share the following new announcement.
Mananara Police Department showed a public display of appreciation to Videeko Vanilla ZP for their generous donation to the Police department.
In a ceremony held at the Police department in Mananara Madagascar, the Police Supervisor thanked Videeko Vanilla ZP for their donations and continued support to the department and our community.
"Videeko's contributions will be put to very good use, and we are extremely grateful. Their support is vital to us, and we are delighted to be able to count on their support", said the Police Supervisor.
"This generous donation will go a long way in helping us purchase new equipment and training for our officers," said the Police Supervisor.
"Videeko has done a lot for Mananara authorities and the community, all the who live here", said the Police Supervisor.
Zebeline, Founder of Videeko Vanilla and Managing Partner, parents of 3rd generation vanilla farmers and herself as a vanilla farmer recognizes the critical importance and necessity of having the police department and their amazing contributions to our community.
The Supervisor reiterated, "We hope that you will continue to support the local people and the local authorities. Thank you again for your generosity and your commitment to our cause."
Videeko is committed to supporting our local farmers, families, and the community in the Mananara Nord region.
We are encouraging more companies or individuals to support our initiatives. Every single dollar counts!
Videeko Vanilla ZP in collaboration with the Nosy Foundation, a Non-Profit Corporation, provides direct financial support and sponsorship funding for a wide range of community-based programs, events, and services.
Any amount that you can donate will make an impact, no matter how large or small. If you would like to make a change, please reach out to the Nosy Foundation at [email protected].
Videeko Vanilla ZP
Specializing in Farming, Curing, Handling, and Exporting of premium organic Madagascar vanilla beans using sustainable, fair trade, farming agricultural practices that help protect the unique rainforest biodiversity in and around the Mananara region while supporting fair wages for our farmers. Videeko's mission is to offer our customers incredible product quality, pricing, and customer service.