Videeko Vanilla ZP completes construction of school in Madagascar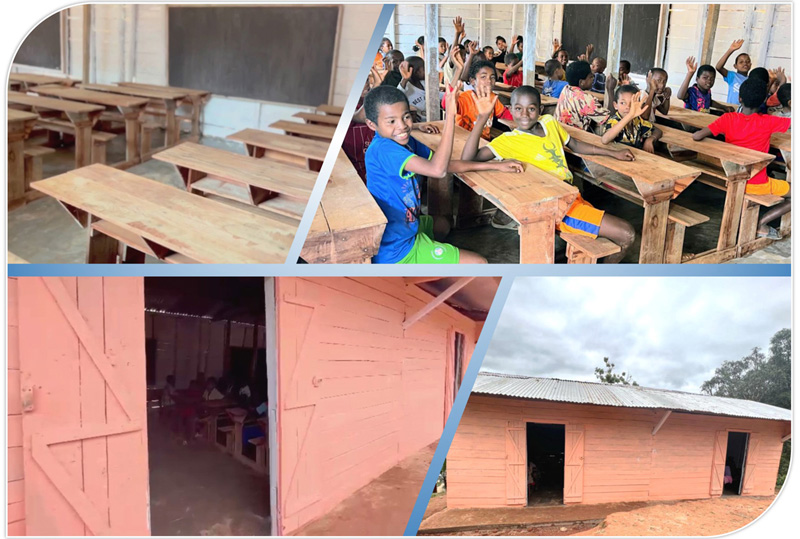 Videeko Vanilla ZP, an industry leading supplier of premium organic Madagascar Vanilla Beans and Vanilla Powder is pleased to share the following new announcement.
We are excited and proud to announce that we have finished construction repairs to our first of many schools in the Mananara region of Madagascar. We are partnered with customers and local Malagasy companies to share our mission of providing improved access to education throughout the villages in the Mananara region of Madagascar.
Zebeline, Founder of Videeko Vanilla and Managing Partner, parents of 3rd generation vanilla farmers and herself as a vanilla farmer recognizes the difficulties with educating the children in the villages in Madagascar.
Videeko was founded because of her dream to support the local farmers and specially to help the children.
To reach the school, many children must walk several miles, through dangerously deep rivers, over high cliffs, and elevated mountains to attend school without eating the whole day until they get back home to their parents. "We would wake up very early in the morning, walk over one hour to school, sometimes in the rain or very hot heat, no food provided by the school. We would not eat food until we get back home from school, " said Zebeline. "In addition, the schools are not well maintained inside and outside and the seating is uncomfortable for the children, creating an environment that is hard to focus on learning," said Zebeline.
In 2019, according to UNICEF Madagascar, more than 1,300,000 Malagasy children, or nearly 60% of preschool children, were not enrolled in public or private education. Prioritizing farm responsibilities and school responsibilities is difficult and that is why 60% of children in Madagascar are not attending public or private education.
Videeko Vanilla, partnering with our customers and local Malagasy companies, have started to help rebuild schools and purchase school material for those children to support their needs.
We are encouraging more companies or individuals to support this initiative. Every single dollar counts!
Videeko Vanilla ZP
Specializing in Farming, Curing, Handling, and Exporting of premium organic Madagascar vanilla beans using sustainable, fair trade, farming agricultural practices that help protect the unique rainforest biodiversity in and around the Mananara region while supporting fair wages for our farmers. Videeko's mission is to offer our customers incredible product quality, pricing, and customer service.